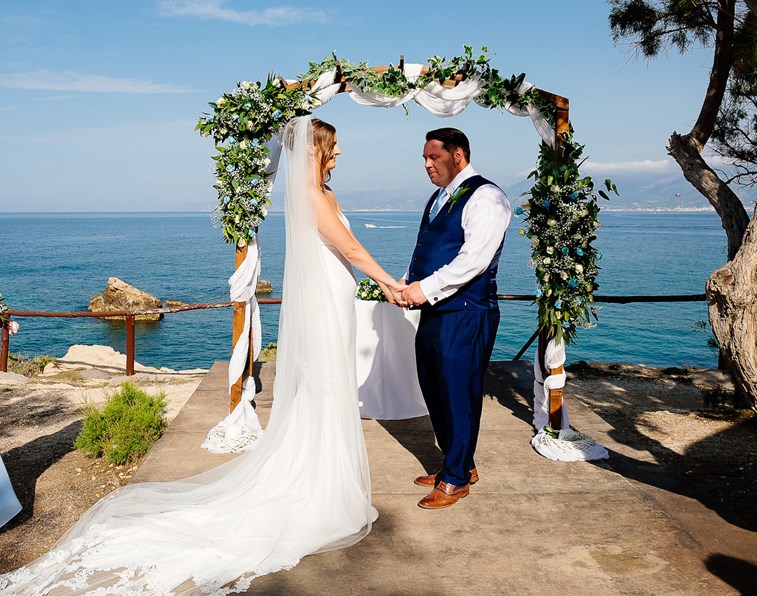 Mr & Mrs Smith
St George's Chapel, Aldemar Knossos Royal - Crete
Where to start... we had an absolutely amazing wedding at the Aldemar Knossos Royal in Crete on the 8th June, it couldn't have been more magical!
From the perfect cliff location, beautiful decorations both at the ceremony and reception, delicious food (including catering to various dietary requirements), an incredibly discreet photographer, to the shear smoothness of everything that fell into place on our special day.
We even had a stunning room upgrade, definitely the best sunset view in the resort. This was made possible by Planet Weddings and their fantastic wedding co-ordinator Bev, who was there for us all day.
Our day was everything we had dreamed of, plus some.
Not only was Bev a star in arranging everything for us and keeping us on track for the wedding day, but she as also able to help us organise a day trip out to see the historic sites with family, then after our wedding arranged luxury transport for dreamy days wine tasting at the winery.
Bev went above and beyond her wedding coordination duties, she was amazing throughout our stay and we wouldn't hesitate to recommend her and Planet weddings for those thinking of booking a wedding abroad in Crete.
Getting married abroad can have a couple of extra-legal requirements documentation wise, but with the guidance of Mathilde we were guided through the process so we had everything in place by the right date, meaning we were all organised before we even stepped on a plane to jet off to our dream day .
Thank you so much to Planet Weddings for making our wedding be everything we wanted it to be and more.
Much love.
Rob & Kate
( Mr & Mrs Smith)